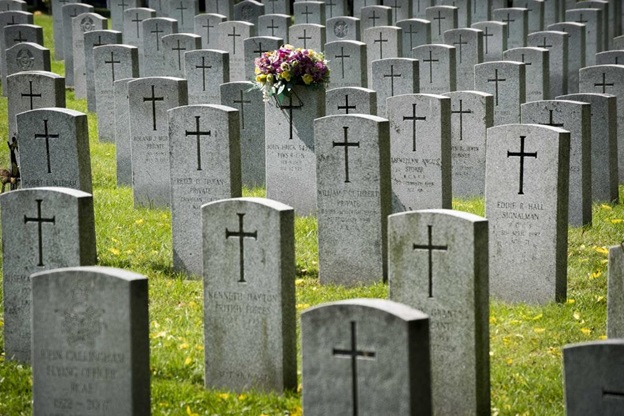 Flowers can convey a variety of messages. Apart from being a symbol of joy, flowers can also be used as a symbol to express grief. We can not arbitrarily choose flowers for funerals. Some special flowers are often used as a symbol of empathy for someone's death.
In addition to red and white roses, some use dark red roses as funeral flowers. Actually, dark red roses are used to replace black roses that don't exist. Black roses are synonymous with death, death, and the afterlife.
Lily Bouquet
Lily bouquet is used to express sincere love. However, if given at the time of mourning, the lily bouquet will symbolize sincere sympathy for the death of someone. Generally, the choice is white lilies.
In America and Europe, the lily bouquet is commonly used at funerals. Even the smell often reminds Americans and Europeans of funeral homes.
Rose Bouquet
3   https://unsplash.com/photos/9CbxSTBuoZ0
Generally, roses are used to express love and affection. But roses can also be used to express grief. Generally, the roses chosen are red roses and white roses. Some gave a bouquet of roses with one color, some combined the two red roses.
White roses symbolize sincere respect, while red roses symbolize love and passion. When combined, a bouquet of white and red roses will symbolize feelings of sadness over the loss of a deceased person. In addition, there is the purpose of encouraging those left behind.
Carnation Bouquet
Carnations are also often encountered as flowers to express empathy and sorrow. Carnation flower bouquets are quite popular in the community. White carnations convey sincerity and empathy. Red carnation flowers convey encouragement and motivation. For Christians and Catholics, red carnations are believed to be made from the tears of the Virgin Mary.
Chrysanthemum Flower Bouquet
Chrysanthemum flowers are generally used as ornamental plants. But this flower can also be used as a bouquet and given to someone who is grieving. A bouquet of chrysanthemums has a deep meaning. In America and Europe, chrysanthemums have the meaning of sympathy and honor. The red chrysanthemum symbolizes love, while the white color symbolizes innocence. In China, Japan, and Korea, white chrysanthemums are symbols of mourning.
Gladiolus Bouquet
Gladiolus flowers have tall flower stems. A bouquet of gladiolus flowers has the meaning of sincerity, honor, and moral integrity. We can use a bouquet of gladiolus flowers to convey respect to someone who has died. This flower has several colors, such as white, pink, red, purple, yellow, green, and orange.
Forget Me Not Bouquet
4   https://unsplash.com/photos/SySGB7Exnys
As the name suggests, this flower can be interpreted as a symbol of memories. Even though a person's body has passed away, he will still live in memory. This flower is suitable to be given to someone who is grieving. However, giving these flowers can usually make them sad because they are reminded of the memories of the deceased.
Hyacinth Bouquet
The hyacinth flower is also a flower of mourning. Generally, this flower is combined with a variety of other flowers. This flower can represent a deep sense of sadness. But some people believe that this flower symbolizes freshness and play. So we must be careful when choosing this flower so as not to be interpreted as an insult.
Iris Bouquet
Iris is a flower of condolence that has the meaning of friendship and faith. The meaning of the iris flower comes from Ancient Greek history. Ancient Greeks believed that the iris could help guide the soul to the next life after death.
Marigold Flower Bouquet
The Marigold flower is often referred to as the flower of death. This flower is often planted near Nisa. This flower is also often used as decoration during the death festival which is celebrated every year in Mexico. Usually, this flower will be used as an altar decoration for deceased relatives.
5   https://unsplash.com/photos/F_6tLMAwdQI
Those are the types of flowers that can be used to express grief. If you have trouble choosing or finding the right flowers, you can also choose based on flower color.
Red flowers symbolize strength, love, and courage. It can be used to show how much we love the person who has died and also how much we love the person left behind.
Purple flowers are generally used to express feelings of worth and femininity. That's why purple flowers are suitable to be given to late women.
White flowers are flowers that are often chosen as mourning flowers. White symbolizes honor, sincerity, and immortality. Usually, this flower color is chosen to express feelings of loss and good wishes for the deceased or their family.
Blue flowers are more often used to represent feelings of peace and serenity. Usually, blue flowers are used as condolence flowers for the late man.
Many florists provide bouquets of flowers for the dead. In Singapore, there are many flower delivery services. We can ask for their recommendations. Choose the best and quality Singapore flower delivery in Singapore. Of course, it will determine the quality of the flowers we buy. There are many flower deliveries in Singapore that you can choose from, but actually only one can make you satisfied. Once again, quality flower delivery in Singapore will determine the quality of the flower bouquet you buy!