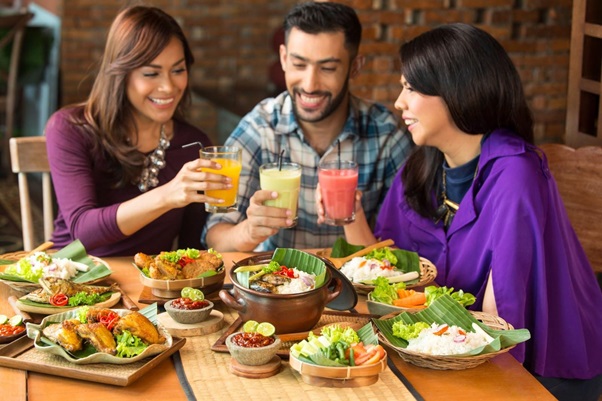 Places to eat in Solo are diverse and have a super savory taste. Many say that some places can bring longing because the location is suitable for dining with friends and family. Therefore, do not be surprised if this city has many places to eat and all of them are always full of visitors. One of the attractions of Solo is its culinary offerings. Moreover, this area has traditional snacks that are super legit and make you addicted. The following are the results of exploring places to eat in Solo that you should include in your itinerary.
1. Warung Selat Mbak Lies
This is a legendary place that is also a cheap family dining place in Solo. Comes with a very delicious and fresh Selat Solo menu. Selat Solo itself is a beefsteak dish mixed with vegetables such as carrots, peas, sweet corn, and so on and then doused with fresh clear sauce. You could say the Selat Solo is a steak belonging to the Solo people.
This stall has been established with various unique ornaments even though it is in a fairly narrow alley. However, it does not discourage visitors to enjoying the original taste. Now this shop comes with a different dish. Where tourists will see various kinds of ceramics installed to decorate the dining area. The seats are also made of glass. So, please be careful. Or you can choose a lesehan seat. The panorama here is like in the Middle East with waiters wearing uniforms that are quite unique. The presentation is fast and very responsive.
The place for washing hands is also unique. Tourists will be provided with a large enough place. In this place provided a dipper that looks quite unique. Well, the name of the table itself is also unique. Taken from the name of the parking lot and the name of the furniture in this place. Just pay IDR 15,000 for Solo Strait and IDR 5,000 for drinks. Everything that is served is very special because it is served in a different form.
2. Dapur Solo
There are actually many buffet restaurants in Solo, but the most recommended place is Dapur Solo. Tourists can choose the various kinds of menus that are served. With a fish pond next to the dining area, you can eat with a different atmosphere.
For will calculate the price food item you take. So you can see for yourself the price when you get there. If you calculate it is a little more expensive, but in terms of taste, this place is the winner in terms of taste. Moreover, in terms of the atmosphere, it feels like nature. Dapur Solo also provides various kinds of meetings such as reunions, social gatherings and many other meeting events.
3. Tengkleng Kewer Bu Adi
Solo is very skilled at presenting a variety of delicious and unique culinary delights and legendary. The next legendary place is called Tengkleng Klewer Bu Edi. Maybe, some of the tourists are confused, what exactly is tengkleng. Tengkleng is a type of curry that contains goat bones, with a fairly watery sauce.
Interestingly, this shop has been around for 40 years. Not a short time to maintain a culinary stall. The place is near Klewer Market. Precisely located near the gate so it shouldn't be difficult to find it.
The way of presentation is also unique because you will eat it with banana leaves. Not unique, banana leaves are also believed to add to the distinctive aroma of food. One of the typical ways of eating this tengkleng is sucking goat bones.
Many tourists come and look for this shop so don't be surprised if many visitors are willing to queue to enjoy it. So at least you have to come before 12.30 pm and will stop serving at 4 to 5 pm, or it can be sooner if the visitors are very busy especially because the price for one portion is only IDR 25,000.
4. Soto Gading Solo
Who does not know Soto. This culinary is indeed because many variants are spread in various regions in Indonesia with their own characteristics. As is the case here, which is known as Soto Gading. Culinary that is usually eaten in the morning can bring freshness and be your comfort food.
The good thing here is that the spices used have been used for generations and never change. What makes it even more delicious is that there are many fried foods and satays that can be used as side dishes. Tourists can also choose a large bowl or a small bowl. For one large bowl, tourists only need to pay IDR 10,000 and IDR 7,000 for a small bowl. For fried foods, almost all variants are priced the same, which is IDR 500. Very cheap for the size of this delicious meal.
Before you plan a trip to Solo, be sure to read more about Solo and Indonesia by visiting Wonderful Indonesia.